That can't possibly be true!!!
Check out some great
non-fiction that reads like fiction

. Some stories are more hair-raising than anything Hollywood could think of…

because they're TRUE!

Click on the title to place a hold or check it out today!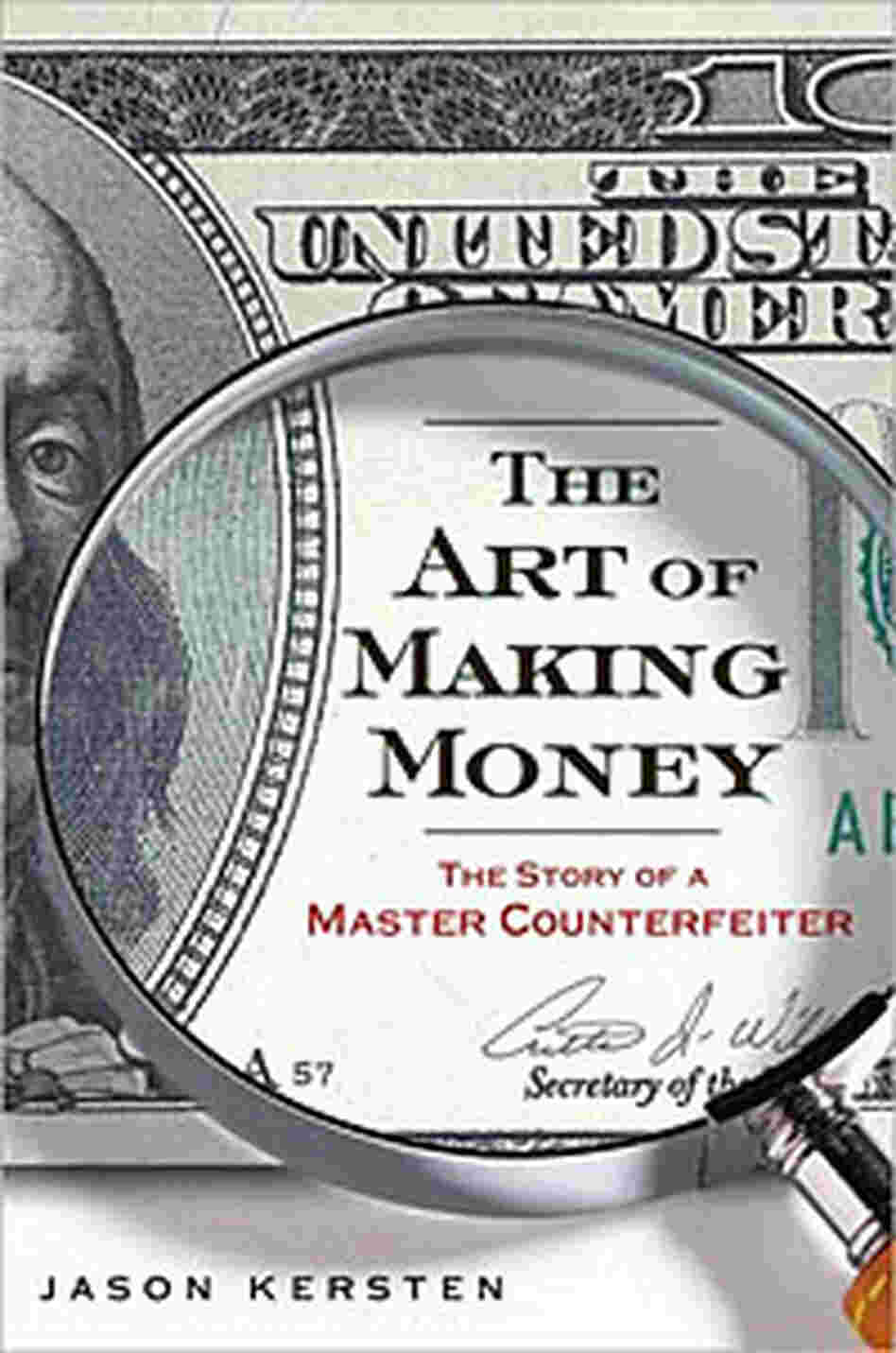 The Art of Making Money: The Story of a Master Counterfeiter by Jason Kersten
The true story of a brilliant counterfeiter who "made" millions, outwitted the Secret Service, and was finally undone when he went in search of the one thing his forged money couldn't buy him: family. Art Williams spent his boyhood in a comfortable middle-class existence in 1970s Chicago, but his idyll was shattered when, in short order, his father abandoned the family, his bipolar mother lost her wits, and Williams found himself living in one of Chicago's worst housing projects. He took to crime almost immediately, starting with petty theft before graduating to robbing drug dealers. Eventually a man nicknamed "DaVinci" taught him the centuries-old art of counterfeiting. After a stint in jail, Williams emerged to discover that the Treasury Department had issued the most secure hundred-dollar bill ever created: the 1996 New Note. Williams spent months trying to defeat various security features before arriving at a bill so perfect that even law enforcement had difficulty distinguishing it from the real thing. In The Art of Making Money , journalist Jason Kersten details how Williams painstakingly defeated the anti-forging features of the New Note, how Williams and his partner-in-crime wife converted fake bills into legitimate tender at shopping malls all over America, and how they stayed one step ahead of the Secret Service until trusting the wrong person brought them all down.
Blood Work: A Tale of Medicine and Murder in the Scientific Revolution by Holly Tucker
On a cold day in 1667, a renegade physician named Jean Denis transfused calf's blood into one of Paris's most notorious madmen. In doing so, Denis angered not only the elite scientists who had hoped to perform the first animal-to-human transfusions themselves, but also a host of powerful conservatives who believed that the doctor was toying with forces of nature that he did not understand. Just days after the experiment, the madman was dead, and Denis was framed for murder. A riveting account of the first blood transfusion experiments in 17th-century Paris and London, "Blood Work" gives us a vivid glimpse of a particularly fraught period in history — a time of fire and plague, empire building and international distrust, when monsters were believed to inhabit the seas and the boundary between science and superstition was still in flux. Amid this atmosphere of uncertainty, transfusionists like Denis became embroiled in the hottest cultural debates and fiercest political rivalries of their day.
Blue Blood by Edward Conlon
Edward Conlon is fourth generation NYPD – and the story he tells is an anecdotal history of New York through its police force, and depicts a portrait of the teeming street life of the city in all its horror and splendor. It is a story about fathers and sons, partners who become brothers, old ghosts and undying legacies. Here you will see terms like loyalty, commitment, and honor come to life, in action, on a daily basis. Conlon depicts his life on the force – from his first days walking a beat in the South Bronx, to his ascent to detective. The book opens with Conlon's first day on patrol, but in fact his story begins in the time of his great-grandfather, an officer of dubious integrity who participated in the corruption that marked the Tammany-era NYPD as a corps in need of reform; it continues through the experience of Conlon's father, a World War II officer who left the ranks of the NYPD to become an FBI agent, and the years of his uncle, an old-fashioned, easygoing career cop, who stayed in uniform throughout the political upheavals and corrections of the 1960s and 1970s. Conlon joined the NYPD during the Giuliani administration, when New York City saw its crime rate plummet but also witnessed events that would alter the city and its inhabitants, and its police force, forever: polarizing racial cases, the proliferation of the drug trade, and the events of September 11, 2001, and its aftermath. Conlon captures the detail of the landscape, the ironies and rhythms of natural speech, the tragic and the marvelous, firsthand, day after day.
Charlie Wilson's War: The Extraordinary Story of How the Wildest Man in Congress and a Rogue CIA Agent Changed the History of Our Times by George Crile
Charlie Wilson's War was a publishing sensation and a New York Times, Washington Post, and Los Angeles Times bestseller. In the early 1980s, a Houston socialite turned the attention of maverick Texas congressman Charlie Wilson to the ragged band of Afghan "freedom fighters" who continued, despite overwhelming odds, to fight the Soviet invaders. Wilson, who sat on the all-powerful House Appropriations Committee, managed to procure hundreds of millions of dollars to support the mujahideen. The arms were secretly procured and distributed with the help of an out-of-favor CIA operative, Gust Avrokotos, whose working-class Greek-American background made him an anomaly among the Ivy League world of American spies. Avrakotos handpicked a staff of CIA outcasts to run his operation and, with their help, continually stretched the Agency's rules to the breaking point. Moving from the back rooms of the Capitol, to secret chambers at Langley, to arms-dealers' conventions, to the Khyber Pass, this book presents an astonishing chapter of our recent past, and the key to understanding what helped trigger the sudden collapse of the Soviet Union and ultimately led to the emergence of a brand-new foe in the form of radical Islam.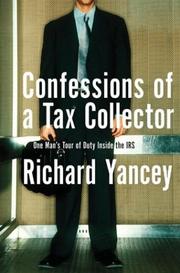 Confessions of Tax Collector: One Man's Tour of Duty Inside the IRS by Richard Yancey
Twelve years ago, Richard Yancey answered a blind ad in the newspaper offering a salary higher than what he'd made over the three previous years combined. It turned out that the job was for the Internal Revenue Service — the most hated and feared organization in the federal government. So Yancey became the man who got in his car, drove to your house, knocked on your door, and made you pay. Never mind that his car was littered with candy wrappers, his palms were sweaty, and he couldn't remember where he stashed his own tax records. He was there on the authority of the United States government. With "a rich mix of humor, horror, and angst <and> better than most novels on the bestseller lists" ( Boston Sunday Globe ), Confessions of a Tax Collector contains an astonishing cast of too-strange-for-fiction characters. But the most intriguing character of all is Yancey himself who — in detailing how the job changed him and how he managed to pull himself back from the brink of moral, ethical, and spiritual bankruptcy — reveals what really lies beneath those dark suits and mirrored sunglasses. This P.S. edition features an extra 16 pages of insights into the book, including author interviews, recommended reading, and more.
The Devil in the White City: Murder, Magic, and the Madness at the Fair that Changed America by Erik Larson
Author Erik Larson imbues the incredible events surrounding the 1893 Chicago World's Fair with such drama that readers may find themselves checking the book's categorization to be sure that The Devil in the White City is not, in fact, a highly imaginative novel. Larson tells the stories of two men: Daniel H. Burnham, the architect responsible for the fair's construction, and H.H. Holmes, a serial killer masquerading as a charming doctor. Burnham's challenge was immense. In a short period of time, he was forced to overcome the death of his partner and numerous other obstacles to construct the famous "White City" around which the fair was built.  The activities of the sinister Dr. Holmes, who is believed to be responsible for scores of murders around the time of the fair, are equally remarkable. He devised and erected the World's Fair Hotel, complete with crematorium and gas chamber, near the fairgrounds and used the event as well as his own charismatic personality to lure victims. The magical appeal and horrifying dark side of 19th-century Chicago are both revealed through Larson's skillful writing
Dewey: The Small-Town Library Cat Who Touched the World by Vicki Myron with Bret Witter
How much of an impact can an animal have? How many lives can one cat touch? How is it possible for an abandoned kitten to transform a small library, save a classic American town, and eventually become famous around the world? You can't even begin to answer those questions until you hear the charming story of Dewey Readmore Books, the beloved library cat of Spencer, Iowa. Dewey's story starts in the worst possible way. Only a few weeks old, on the coldest night of the year, he was stuffed into the returned book slot at the Spencer Public Library. He was found the next morning by library director, Vicki Myron, a single mother who had survived the loss of her family farm, a breast cancer scare, and an alcoholic husband. Dewey won her heart, and the hearts of the staff, by pulling himself up and hobbling on frostbitten feet to nudge each of them in a gesture of thanks and love. For the next nineteen years, he never stopped charming the people of Spencer with his enthusiasm, warmth, humility, (for a cat) and, above all, his sixth sense about who needed him most. As his fame grew fro
m town to town, then state to state, and finally, amazingly, worldwide, Dewey became more than just a friend; he became a source of pride for an extraordinary Heartland farming town pulling its way slowly back from the greatest crisis in its long history.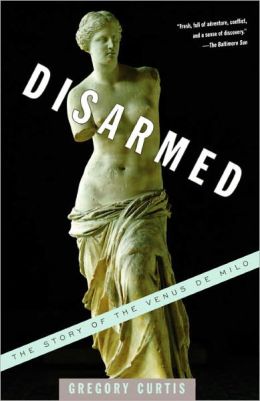 Disarmed: The Story of the Venus De Milo by Gregory Curtis
The Venus de Milo is both a great work of art and a popular icon, and from the moment of her discovery in 1820 by a French naval ensign, she has been an object of controversy. In Disarmed , Gregory Curtis gives us the "life" of this magnificent representation of life. Using memoirs, letters, and official accounts, Curtis takes us up close to events. We see the Venus unearthed by a farmer digging for marble building blocks on the Aegean island of Melos at the moment a young officer and amateur archeologist looking for "relics" happened by. We also see how the island's elders, excited by the Frenchman's offer of money, fought with their Turkish overlords over who owned her. We learn how the French pressed their claim and then, outwitting other suitors, brought her to the Louvre, where she became an immediate celebrity. A passionate researcher, Curtis shows us Europe in the early nineteenth century, caught in the grip of a classical art mania and a burgeoning romantic Hellenism. He sketches a tale of rich historical intrigue, revealing just how far the Louvre was prepared to go to prove it had the greatest classical find of the era. He tells how this resulted in two magisterial scholars, one French and one German, battling over the statue's origins and authenticity for decades. He ends with a tribute to the statue's beauty and eternal appeal. A delightful, illuminating history of one of the most famous artworks of all time.
Flawless: Inside the Largest Diamond Heist in History by Scott Andrew Selby & Greg Campbell
On February 15, 2003, a group of thieves broke into an allegedly airtight vault in the international diamond capital of Antwerp, Belgium and made off with over $108 million dollars worth of diamonds and other valuables. They did so without tripping an alarm or injuring a single guard in the process. Although the crime was perfect, the getaway was not. The police zeroed in on a band of professional thieves fronted by Leonardo Notarbartolo, a dapper Italian who had rented an office in the Diamond Center and clandestinely cased its vault for over two years.  The "who" of the crime had been answered, but the "how" remained largely a mystery. Enter Scott Andrew Selby, a Harvard Law grad and diamond expert, and Greg Campbell, author of Blood Diamonds , who undertook a global goose chase to uncover the true story behind the daring heist. Tracking the threads of the story throughout Europe—from Belgium to Italy, in seedy cafés and sleek diamond offices—the authors sorted through an array of conflicting details, divergent opinions and incongruous theories to put together the puzzle of what actually happened that Valentine's Day weekend. This real-life Ocean's Eleven —a combination of diamond history, journalistic reportage, and riveting true-crime story—provides a thrilling in-depth study detailing the better-than-fiction heist of the century.
The Gardner Heist: The True Story of the World's Largest Unsolved Art Theft by Ulrich Boser
One museum, two thieves, and the Boston underworld—the story behind the lost Gardner masterpieces and the art detective who swore to get them back Shortly after midnight on March 18, 1990, two men broke into the Isabella Stewart Gardner Museum in Boston and committed the largest art heist in history. They stole a dozen masterpieces, including one Vermeer, three Rembrandts, and five Degas. But after thousands of leads, hundreds of interviews, and a $5-million reward, not a single painting has been recovered. Worth a total of $500 million, the missing masterpieces have become the Holy Grail of the art world and one of the nation's most extraordinary unsolved mysteries. Art detective Harold Smith worked on the theft for years, and after his death, reporter Ulrich Boser inherited his case files.  Boser eventually cracks one of the biggest mysteries of the case and uncovers the identities of the men who robbed the museum nearly two decades ago. A tale of art and greed, of obsession and loss, The Gardner Heist is as compelling as the stolen masterpieces themselves.
The Hot Zone: A Terrifying True Story by Richard Preson
The true story of how Ebola Zaire almost ravaged the Americas in 1989. The virus kills nine out of ten of its victims so quickly and gruesomely that even biohazard experts are terrified. It is airborne, it is extreme contagious, and it is about to burn through the suburbs of a major American city. Is there any way to stop it?
In the winter of 1989, at an Army research facility outside Washington, D.C., this doomsday scenario seemed like a real possibility. A SWAT team of soldiers and scientists wearing biohazard space suits had been organized to stop the outbreak of an exotic hot virus. The grim operation went on in secret for eighteen days, under dangerous conditions for which there was no precedent.
A Hunt for Justice: The True Story of an Undercover Wildlife Agent by Lucinda Delaney Schroeder
For thirty years, Lucinda Delaney Schroeder held an unusual government position: she was one of the handful of women special agents with the U.S. Fish and Wildlife Service. In August 1992, she accepted an assignment that forever changed–and endangered–her life. She posed as a big-game hunter in Alaska in order to infiltrate an international ring of poachers out to kill the biggest and best of that state's wildlife. A Hunt for Justice recounts her dramatic story–a story she was not legally permitted to write about until her retirement in 2004.
The Immortal Life of Henrietta Lacks by Rebecca Skloot
Rebecca Skloot takes us on an extraordinary journey, from the "colored" ward of Johns Hopkins Hospital in the 1950s to stark white laboratories with freezers full of HeLa cells; from Henrietta's small, dying hometown of Clover, Virginia — a land of wooden slave quarters, faith healings and voodoo — to East Baltimore today, where her children and grandchildren live and struggle with the legacy of her cells. Henrietta's family did not learn of her "immortality" until more than 20 years after her death, when scientists investigating HeLa began using her husband and children in research without informed consent. And though the cells had launched a multimillion-dollar industry that sells human biological materials, her family never saw any of the profits. As Rebecca Skloot so brilliantly shows, the story of the Lacks family — past and present — is inextricably connected to the dark histo
ry of experimentation on African Americans, the birth of bioethics and the legal battles over whether we control the stuff we are made of.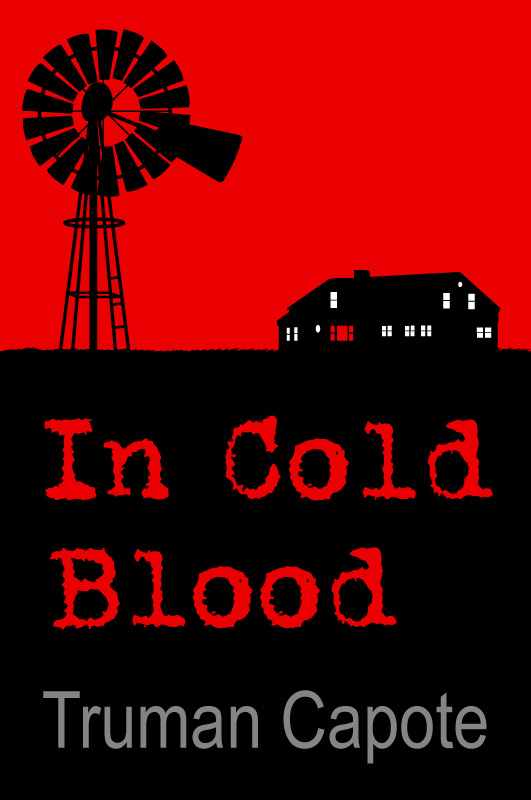 In Cold Blood by Truman Capote
On November 15, 1959, in the small town of Holcomb, Kansas, four members of the Clutter family were savagely murdered by blasts from a shotgun held a few inches from their faces. There was no apparent motive for the crime, and there were almost no clues. Five years, four months and twenty-nine days later, on April 14, 1965, Richard Eugene Hickock, aged thirty-three, and Perry Edward Smith, aged thirty-six, were hanged for the crime on a gallows in a warehouse in the Kansas State Penitentiary in Lansing, Kansas. In Cold Blood is the story of the lives and deaths of these six people. It has been hailed as a masterpiece.
The Informant: A True Story by Kurt Eichenwald
From an award-winning New York Times investigative reporter comes an outrageous story of greed, corruption, and conspiracy—which left the FBI and Justice Department counting on the cooperation of one man . . . It was one of the FBI's biggest secrets: a senior executive with America's most politically powerful corporation, Archer Daniels Midland, had become a confidential government witness, secretly recording a vast criminal conspiracy spanning five continents. Mark Whitacre had put his career and family at risk to wear a wire and deceive his friends and colleagues. Using Whitacre and a small team of agents to tap into the secrets at ADM, the FBI discovered the company's scheme to steal millions of dollars from its own customers. But as the FBI and federal prosecutors closed in on ADM, using stakeouts, wiretaps, and secret recordings of illegal meetings around the world, they suddenly found that everything was not all that it appeared. Whitacre became sucked into his own world of James Bond antics, imperiling the criminal case and creating a web of deceit that left the FBI and prosecutors uncertain where the lies stopped and the truth began. A page-turning real-life thriller that features deadpan FBI agents, crooked executives, idealistic lawyers, and shady witnesses with an addiction to intrigue, The Informant tells an important and compelling story of power and betrayal in America
A Long Way Gone: Memoirs of a Boy Soldier by Ishmael Beah
This is how wars are fought now: by children, hopped-up on drugs and wielding AK-47s. Children have become soldiers of choice. In the more than fifty conflicts going on worldwide, it is estimated that there are some 300,000 child soldiers. Ishmael Beah used to be one of them. What is war like through the eyes of a child soldier? How does one become a killer? How does one stop? Child soldiers have been profiled by journalists, and novelists have struggled to imagine their lives. But until now, there has not been a first-person account from someone who came through this hell and survived. In A Long Way Gone , Beah, now twenty-five years old, tells a riveting story: how at the age of twelve, he fled attacking rebels and wandered a land rendered unrecognizable by violence. By thirteen, he'd been picked up by the government army, and Beah, at heart a gentle boy, found that he was capable of truly terrible acts.   This is a rare and mesmerizing account, told with real literary force and heartbreaking honesty. This book is touching.
The Lost City of Z: A Tale of Deadly Obsession in the Amazon by David Grann
A sensational disappearance that made headlines around the world. A quest for truth that leads to death, madness or disappearance for those who seek to solve it. The Lost City of Z is a blockbuster adventure narrative about what lies beneath the impenetrable jungle canopy of the Amazon. After stumbling upon a hidden trove of diaries, acclaimed New Yorker writer David Grann set out to solve "the greatest exploration mystery of the twentieth century." What happened to the British explorer Percy Fawcett and his quest for the Lost City of Z? In 1925 Fawcett ventured into the Amazon to find an ancient civilization, hoping to make one of the most important discoveries in history. Thousands had died looking for it, leaving many scientists convinced that the Amazon was truly inimical to humankind. But Fawcett, whose daring expeditions helped inspire Conan Doyle's The Lost World , had spent years building his scientific case. Captivating the imagination of millions around the globe, Fawcett embarked with his twenty-one-year-old son, determined to prove that this ancient civilization–which he dubbed "Z"–existed. Then he and his expedition vanished. For decades scientists and adventurers have searched for evidence of Fawcett's party and the lost City of Z. Countless have perished, been captured by tribes, or gone mad.
The Men Who Stare at Goats by Jon Ronson
In 1979 a secret unit was established by the most gifted minds within the U.S. Army. Defying all known accepted military practice — and indeed, the laws of physics — they believed that a soldier could adopt a cloak of invisibility, pass cleanly through walls, and, perhaps most chillingly, kill goats just by staring at them. Entrusted with defending America from all known adversaries, they were the First Earth Battalion. And they really weren't joking. What's more, they're back and fighting the War on Terror. With firsthand access to the leading players in the story, Ronson traces the evolution of these bizarre activities over the past three decades and shows how they are alive today within the U.S. Department of Homeland Security and in postwar Iraq. Why are they blasting Iraqi prisoners of war with the theme tune to Barney the Purple Dinosaur? Why have 100 debleated goats been secretly placed inside the Special Forces Command Center at Fort Bragg, North Carolina? How was the U.S. military associated with the mysterious mass suicide of a strange cult from San Diego? The Men Who Stare at Goats answers these and many more questions.
The Perfect Storm: A True Story of Men Against the Sea by Sebastian Junger
October 1991. It was "the perfect storm"–a tempest that may happen only once in a century–a nor'easter created by so rare a combination of factors that it could not possibly have been worse. Creating waves ten stories high and winds of 120 miles an hour, the storm whipped the sea to inconceivable levels few people on Earth have ever witnessed. Few, except the six-man crew of the "Andrea Gail", a commercial fishing boat tragically headed towards its hellish center.
The Professor and the Madman: A Tale of Murder, Insanity, and the Making of the Oxford English Dictionary by Simon Winchester
The Professor and the Madman, masterfully researched and eloquently written, is an extraordinary tale of madness, genius, and the incredible obsessions of two remarkable men that led to the making of the Oxford English Dictionary — and literary history. The compilation of the OED began in 1857, it was one of the most ambitious projects ever undertaken. As definitions were collected, the overseeing committee, led by Professor James Murray, discovered that one man, Dr. W. C. Minor, had submitted more than ten thousand. When the committee insisted on honoring him, a shocking truth came to light: Dr. Minor, an American Civil War veteran, was also an inmate at an asylum for the criminally insane. This P.S. edition features an extra 16 pages of insights into the book, including author interviews, recommended reading and more.
Sex on the Moon: The Amazing Story Behind the Most Audacious Heist in History by Ben Mezrich
Thad Roberts, a fellow in a prestigious NASA program had an idea — a romantic, albeit crazy, idea. He wanted to give his girlfriend the moon. Literally. Thad convinced his girlfriend and another female accomplice, both NASA interns, to break into an impregnable laboratory at NASA's headquarters — past security checkpoints, an electronically locked door with cipher security codes and camera-lined hallways — and help him steal the most precious objects in the world: the moon rocks. But what does one do with an item so valuable that it's illegal even to own? And was Thad Roberts — undeniably gifted, picked for one of the most competitive scientific posts imaginable, a possible astronaut — really what he seemed? Mezrich has pored over thousands of pages of court records, FBI transcripts, and NASA documents and has interviewed most of the participants in the crime to reconstruct this Ocean's Eleven–style heist, a madcap story of genius, love and duplicity that reads like a Hollywood thrill ride.
Shadow Divers: The True Adventure of Two Americans Who Risked Everything to Solve One of the Last Mysteries of World War II by Robert Kurson
For John Chatterton and Richie Kohler, deep wreck diving was more than a sport. Testing themselves against treacherous currents, braving depths that induced hallucinatory effects, navigating through wreckage as perilous as a minefield, they pushed themselves to their limits and beyond, brushing against death more than once in the rusting hulks of sunken ships. But in the fall of 1991, not even these courageous divers were prepared for what they found 230 feet below the surface, in the frigid Atlantic waters sixty miles off the coast of New Jersey: a World War II German U-boat, its ruined interior a macabre wasteland of twisted metal, tangled wires, and human bones–all buried under decades of accumulated sediment. No identifying marks were visible on the submarine or the few artifacts brought to the surface. No historian, expert, or government had a clue as to which U-boat the men had found. Over the next six years, an elite team of divers embarked on a quest to solve the mystery. Some of them would not live to see its end. Author Robert Kurson's account of this quest is at once thrilling and emotionally complex, and it is written with a vivid sense of what divers actually experience when they meet the dangers of the ocean's underworld. The story of Shadow Divers often seems too amazing to be true, but it all happened, two hundred thirty feet down, in the deep blue sea.
Stiff: The Curious Lives of Human Cadavers by Mary Roach
For two thousand years, cadavers some willingly, some unwittingly have been involved in science's boldest strides and weirdest undertakings. They've tested France's first guillotines, ridden the NASA Space Shuttle, been crucified in a Parisian laboratory to test the authenticity of the Shroud of Turin and helped solve the mystery of TWA Flight 800. For every new surgical procedure, from heart transplants to gender reassignment surgery, cadavers have been there alongside surgeons, making history in their quiet way.
In this fascinating, ennobling account, Mary Roach visits the good deeds of cadavers over the centuries from the anatomy labs and human-sourced pharmacies of medieval and nineteenth-century Europe to a human decay research facility in Tennessee, to a plastic surgery practice lab, to a Scandinavian funeral directors' conference on human composting. In her droll, inimitable voice, Roach tells the engrossing story of our bodies when we are no longer with them.
Unbroken: A World War II Story of Survival, Resilience, and Redemption by Laura Hillenbrand
On a May afternoon in 1943, an Army Air Forces Bomber crashed into the Pacific Ocean and disappeared, leaving only a spray of debris and a slick of oil, gasoline, and blood.  Then, on the ocean surface, a face appeared.  It was that of a young lieutenant, the plane's bombardier, who was struggling to a life raft and pulling himself aboard.  So began one of the most extraordinary odysseys of the Second World War. The lieutenant's name was Louis Zamperini.  In boyhood, he'd been a cunning and incorrigible delinquent, breaking into houses, brawling, and fleeing his home to ride the rails.  As a teenager, he had channeled his defiance into running, discovering a prodigious talent that had carried him to the Berlin Olympics and within sight of the four-minute mile.  But when war had come, the athlete had become an airman, embarking on a journey that led to his doomed flight, a tiny raft, and a drift into the unknown. Ahead of Zamperini lay thousands of miles of open ocean, leaping sharks, a foundering raft, thirst and starvation, enemy aircraft, and, beyond, a trial even greater. His fate, whether triumph or tragedy, would be suspended on the fraying wire of his will.
Under the Banner of Heaven: The Story of Violent Faith by Jon Krakauer
In 1984, Ron and Dan Lafferty murdered the wife and infant daughter of their younger brother Allen. The crimes were noteworthy not merely for their brutality but for the brothers' claim that they were acting on direct orders from God. In Under the Banner of Heaven, Jon Krakauer tells the story of the killers and their crime but also explores the shadowy world of Mormon fundamentalism from which the two emerged. The Mormon Church was founded, in part, on the idea that true believers could speak directly with God. But while the mainstream church attempted to be more palatable to the general public by rejecting the controversial tenet of polygamy, fundamentalist splinter groups saw this as apostasy and took to the hills to live what they believed to be a righteous life. When their beliefs are challenged or their patriarchal, cult-like order defied, these still-active groups, according to Krakauer, are capable of fighting back with tremendous violence. Krakauer's accounts of the actual murders are graphic and disturbing, but such detail makes the brothers' claim of divine instruction all the more horrifying. In an age where Westerners have trouble comprehending what drives Islamic fundamentalists to kill, Jon Krakauer advises us to look within America's own borders.