Junior Friends Information
The Junior Friend program at the North Tonawanda Public Library is for students entering 6th grade through 12th grade.
We are once again registering online this year!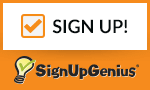 Please click the above box to access the links to the sign ups.
If you plan to sign-up with a partner, be sure to discuss times and dates that would work best for both of you!
Videos
The videos will guide you through the registration process as well as the rules and regulations for being a Junior Friend.  The videos were created last year, so please keep that in mind if any specific dates are mentioned, but the information about the registration process and the rules are accurate. If you are registering, you must view the videos first. If you have any questions, please feel free to contact us at the library.
Handbook and Paperwork
Click on the link to the pdf above. Please print and return the signed information to the Children's Department.
The Junior Friend handbook features a list of the rules and regulations as well as information required to be filled out, signed, and returned to the Children's Department. Physical copies are also available at the library in the Children's Room.
Please note: All signed paperwork MUST be turned in by your first day working, or you will NOT be allowed to volunteer, NO EXCEPTIONS!
T-Shirts
If you would like to purchase a Summer Reading Club Junior Friend T-Shirt, please bring $6.00 to the Children's Room by Friday, June 14th.
Questions?
If you have any questions regarding the Junior Friend program, please visit us in the Children's Room or call us at the library at 716-693-4132 ext. 5. We would be happy to help you with any questions.